Home › English
RIPRO Story
Ripro Corporation Japan is a major Japanese survey marker manufacturer supplying 60% of the markers in Japan. A leader in recycled products, Ripro has been producing survey markers from recycled plastic materials for 40 years. Located in Okayama (metro population: 1.9 million), 330 miles southwest of Tokyo, with sales of 1.6 billion Japanese Yen ($15,800,000), Ripro is the world's largest manufacturer of survey markers, producing 5 million survey markers per year (using over 10,500,000 pounds of recycled material).
Waste Plastic Material Recycling Factory Protecting the environment and recycling are key elements to Ripro's success. Waste plastic materials are recycled and turned into survey markers and stakes. All types of plastic waste are used- scrap wrapping film from airport cargo, chemical plants, and trucking operations, plastic tape, carpeting, car parts including plastic bumpers, etc. Primary waste plastic products recycled are polyethylene and polypropylene. A multi-step process assures total use of plastic waste materials: Receiving → Grinding → Molding & Processing → Cooling → Quality Control → Packing → Delivery
After crushing and grinding the plastic waste material is heated to 250°C (482°F). The material then goes through a unique process in which it is molded by a patented multi-step rotational molding and cooling machine (60-150 cavity capacity, based on size of marker being produced). After this process is completed a colored marker head is affixed to the stake creating the finished product. The marker head can be left blank, customized with specific lettering (i.e., SURVEY MARKER), a special logo, or simply a cross or center point.
A four-step quality assurance program ensures delivery of a quality product.
Approximately 30 years ago, during the initial stage to expand the Ripro recycled marker, the Japanese government announced the recommendation for the use of recycled products. With this environmental mandate throughout Japan, the Ripro Eco Marker Stake came into existence. With some 300 standard Eco Maker Stake configurations and over 2000 custom configurations, Ripro has made a commitment to providing high-quality, durable survey markers out of recycled materials. Markers are available with encapsulated magnets for easy locating with a magnetic locator. In addition to the EcoStake markers Ripro also produces a wide variety of other survey products including brass markers, markers for concrete, nail markers, flags and targets, signs, and related surveying accessories. In addition, Ripro also produces posts and lumber made from recycled plastic. Ripro is also a distributor in Japan for Berntsen, Presco, Schonstedt, SECO, Josef Attenberger (Germany) and Faynot (France).
Ripro recycled marker products are sold throughout Asia, Australia, Europe, and in the USA (by Berntsen International, the exclusive survey distributor of Ripro survey markers in the USA). In Japan the Ripro EcoStake marker is used for all types of survey marking including reference markers, boundary markers, and benchmark control points.
Ripro is an ISO9001/14001 qualified company and the first company in Japan to institute a quality control standard (JIS) on recycled plastic products. Included in this process is segregated disposal of non-usable materials to an excrete waste company with the aim to increase the usable lifetime of that material as well. The Ripro environmental and conservation thinking is based on the 3 R's: Recycle, Reduce, Re-use, totally encompassing the "Mottainai Spirit"(ancient Japanese for Don't waste, respect nature). The Ripro manufacturing facility, built in 2006, is of a total environmentally conscious design and features a solar panel power generation system and a rain water collection for reducing CO2. In addition, the office design includes plentiful windows for maximum sunlight, reducing the need for artificial lighting.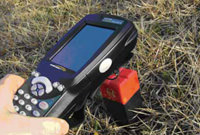 Ripro Information Eco Marker System In research and development for the past 20 years the Ripro Information Eco Marker System is a patented marker incorporating RFID (Passive Radio Frequency IDentification) technology. The information Eco Markers and EcoStakes integrate marking with information technology incorporating GIS, GPS, surveying data, utility information, and any custom management information in the field. Information Eco Marker store data 256-2000 byte memory directly in the body. Ripro Information EcoStakes can be driven, with the RFID tag inside, directly into the ground(Tested 30J x 20 times hitting). This means you can work and use your data faster in your field. An Information Eco Marker can read data after a 2000h UV- weatherproof and exposure test. An example of the type of surveying storage data and information that can be included includes: Marker name, number, material, type of survey, install date, X-Y coordinates, elevation, surveying method, company/agency name, etc. Ripro's vision is to utilize recycled materials putting value-added enhancements on recycled products with the incorporation of the latest Eco and RFID technology.
Ripro works with partners in GIS, GPS, and surveying to integrate these technologies. Technological advances in these areas allow for such advances as specialized custom software in cell phones. This permits the reading of RFID tags in Eco Markers wirelessly communicating directly with central databases and displaying information specific to each marker including coordinates, GIS mapping information, aerial photos, and any other desired information stored in the central database specific to each marker. With the ability to read the information, edit it, and save it to the database it provides complete communication and total control for information to be updated and stored directly from the field.
RIPRO Survey Marker Museum
The Ripro recycling manufacturing factory and Survey Marker Museum (KUI Museum) are important education facilities and learning tools for teaching about recycling and learning about the surveying profession and importance of survey markers for many local school children and local surveyors.
Company Information
Primary Products Manufactured: Recycled plastic and related materials Qualified: ISO 9001, ISO 14001, JIS (Japanese Industrial Standard) approved factory Awards: - Good Design Award (1991) First winner of JIDPO Special Prize for Ecology: Most Conscious Products (JIDPO: Japan Industrial Design Promotion Organization) - Special Ecology Company Prize: Japan New Business Conference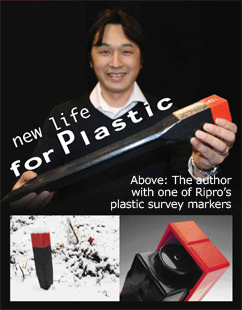 Incorporating RFID technology, the Eco Marker houses a wealth of information that can be gathered by several means.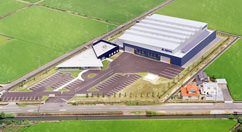 Ripro's factory was designed environmentally friendly.
Corporate Guide
Company Name

RIPRO Corporation, Japan

Established

December 23, 1971

Capital

JPY 15,000,000

President

Takumi Okada

Production

Plastics manufacture

Headquarters & Facilities

1186, Nakaune,Minami-Ku, Okayama, 701-0213, Japan
Phone: +81-(0)86-298-2281
Fax: +81-(0)86-298-2121
E-MAIL info@ripro.co.jp

Tokyo office

Komagome Tokyo Office
Phone: +81-(0)3-5974-1191
Fax: +81-(0)3-5974-4191